Persons of Interest
Talk

9
746pages on
this wiki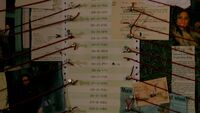 A Person of Interest is an individual who will be involved in a violent crime. The Machine, without indicating whether the individual is the victim or the perpetrator, supplies his or her Social Security number to Reese and Finch, who study their background and attempt to prevent the violent crime.
Since Season 1, the intro will provide some scenes from the episode. Starting with "Masquerade", an ID is shown with the Person of Interest.
Notable numbers
Edit
Notable numbers
Edit
Other Numbers
Edit
Persons of Interest who either appeared in a flashback or in a side arc providing background information relevant to the main event.
Relevant Numbers
Edit