Philip Chapple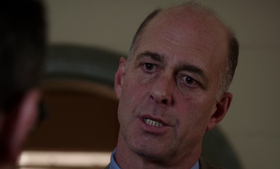 Played by
John Bedford Lloyd
---
---
---
Occupation
Head of a military charity
---
Residence
New York, NY, U.S.
---
---
---
Philip Chapple is the head of the military charity Homes For Our Returning Heroes.
His charity however charges absurd rates for mortgages and he is actually using his charity to steal from hundreds of soldiers by tripling the interest rates, allowing his partner, Merton Watts to use his investment bank to foreclose on the soldiers homes. Chapple then gets kickbacks from Watts. Through this method, Chapple steals over $30 million which he hides in accounts in a Venezuelan bank.
After cheating Shayn Coleman who lost his home and fiancé as a result, Shayn teams up with Abby Monroe, the brother of a deceased soldier and a worker at his charity. Abby finds out the truth about Chapple's plot and goes to the authorities, but Chapple makes false allegations against Abby that prevent anyone from taking her seriously. With no legal way to stop Chapple, Abby and Shayn rob his office for his safe deposit box keys and codes and break into the vault of the bank. They are able to locate Chapple's account information and escape his mercenaries. Chapple arrives in the lobby himself, but is interrupted by the arrival of the police and FBI. Chapple is only able to watch helplessly as Harold Finch takes the bank statements from Abby and Shayn and promises to empty all of Chapple's accounts and donate his stolen money to reputable military charities.
Ad blocker interference detected!
Wikia is a free-to-use site that makes money from advertising. We have a modified experience for viewers using ad blockers

Wikia is not accessible if you've made further modifications. Remove the custom ad blocker rule(s) and the page will load as expected.