Pia Moresco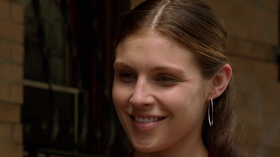 ---
---
---
---
---
---
Pia Moresco is Joey Durban's fiancée.
She and Joey have known each other since childhood. She waited six years for him while he was deployed. Pia has doubts about Joey, but Reese visits her at her work pretending to be an old friend and convinces her of Joey's love. After Reese saved Joey's life, he convinced him to flee the city with Pia to get away from Sam Latimer. Joey and Pia left the city together on a bus to Phoenix to start a new life with money Reese gave them.
In "Synecdoche", Joey tells Reese that he married Pia.