Reese's loft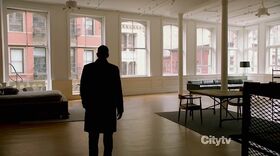 ---
---
---
Connection
Birthday present from Finch
---
---
---
---
Location
New York City, NY, U.S.
---
Reese's loft was a birthday present from Finch for Reese's birthday in 2012. ("Many Happy Returns")
Located at 810 Baxter St., it faces Columbus Park, where Reese occasionally plays xiangqi, a Chinese version of chess, with Mr. Han.
Reese maintains a small weapons arsenal inside a closet in in the loft. ("Bury the Lede")
Gallery
Real-life location
The 4,000 sq. ft. loft belongs to Home Studios, Inc. and is located at 873 Broadway by 18th St. [1] - nowhere near Columbus Park. It has been a popular set for all kinds of events, including cooking shows on TV.
Trivia
Reese's previous residences
Before moving into the loft, Reese lived in an old apartment at an unspecified location. ("

Many Happy Returns

")
While working Ernie Trask's number, Finch arranged for Reese to move into an apartment at a noble residential building where Trask was working as a super. The appartment's real location is The Apthorp at 2211 Broadway. ("

Super

") [2]
References
Ad blocker interference detected!
Wikia is a free-to-use site that makes money from advertising. We have a modified experience for viewers using ad blockers

Wikia is not accessible if you've made further modifications. Remove the custom ad blocker rule(s) and the page will load as expected.