This article discusses a group, project, or location which also exists outside the Person of Interest universe.
Its portrayal in the show may differ significantly from its real-world counterpart.
Rikers Island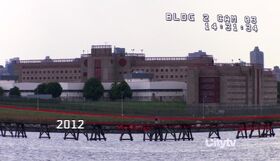 ---
---
---
Purpose
Detention of short-term prisoners and prisoners awaiting trial
---
---
---
Rikers Island is a complex of short-term detention facilities and jails, where Reese was brought for interrogation after he was captured by the FBI. ("2πR")
It is located at the north tip of Queens. It serves as the New York City Department of Correction's main jail facility. The complex includes detention centers for prisoners awaiting trial, such as Elias, and jails for both male and female prisoners with one year or less to serve.
Known personnel
Known inmates
Gallery
Real-life Situation
The Rikers Island complex, which consists of ten jails, holds local offenders who are awaiting trial and cannot afford, obtain, or were not given bail from a judge, those serving sentences of one year or less and those temporarily placed there pending transfer to another facility. Rikers Island is therefore a jail and not a prison, which typically holds offenders serving longer-term sentences. [1]
References
Ad blocker interference detected!
Wikia is a free-to-use site that makes money from advertising. We have a modified experience for viewers using ad blockers

Wikia is not accessible if you've made further modifications. Remove the custom ad blocker rule(s) and the page will load as expected.