Robert Keller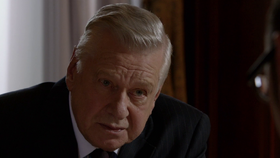 ---
---
---
Occupation
CEO of Virtanen Pharmaceuticals
---
Residence
New York, NY, USA
---
---
---
---
Robert Keller was the head of Virtanen Pharmaceuticals and is Mark Lawson's father-in-law.
Although at first it seems that he is unaware of Lawson's illegal activities, he is actually in collusion with him.
He is exposed of his activities by Finch with the help of Reese and Zoe Morgan. Before leaving Finch tells him that he is going to take from Keller what he cares about most, money. ("The Fix")
He is later arrested and convicted for the murder of Dana Miller by Landon Walker. While Reese is handling the case of Adam Saunders, he sees a news report on the verdict of Keller's trial, causing Adam to comment that the only thing keeping Virtanen from bankruptcy is if Keller gets acquitted. Adam is revealed to have short sold Virtanen stock and states that if Keller is found guilty, it will pay out. Moments later, the news report announces that Keller has been found guilty on all charges and charges are now going to be brought against Mark Lawson. Adam later tells Reese that the Keller family "hocked everything but the family cow" for his legal defense and it was a major reason the company went broke. As a result of Adam's short sell based on Keller's conviction, he makes his clients $100,000,000. ("Risk") ("Bury the Lede")
Ad blocker interference detected!
Wikia is a free-to-use site that makes money from advertising. We have a modified experience for viewers using ad blockers

Wikia is not accessible if you've made further modifications. Remove the custom ad blocker rule(s) and the page will load as expected.