Sabrina Drake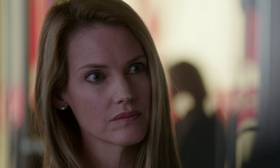 ---
---
---
---
Occupation
Co-owner of East Village Publishing
---
Residence
New York, NY, U.S.
---
---
---
Sabrina Drake is the co-owner of East Village Publishing with her husband Daniel Drake.
She put a hit on her husband after their relationship deteriorated over the course of several years following a traumatic miscarriage. She wanted to sell their business but her husband was stubbornly opposed. Her husband ended up taking out a similar hit on her.
Reese, Carter and Fusco were able to stop their respective assassins and Finch was able to make them realize that they were not evil people but just a couple who grew frustrated, and whose frustration turned to hatred. They realized that they got to this point by not talking and blaming each other after they lost their first child due to miscarriage. They apologized for trying to kill each other and decide to try and have another baby when they got out of their current situation.
They were both arrested for attempted murder but when they refused to testify against each other, the case against them fell apart.
Ad blocker interference detected!
Wikia is a free-to-use site that makes money from advertising. We have a modified experience for viewers using ad blockers

Wikia is not accessible if you've made further modifications. Remove the custom ad blocker rule(s) and the page will load as expected.