Sam Latimer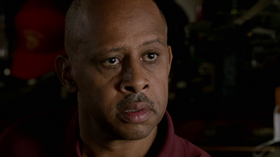 ---
---
---
Occupation
Owner of The Green Zone
U.S. Army (Former)
---
Residence
New York, NY, USA
---
---
---
Former US Army Master Sergeant Sam Latimer ran a criminal gang of down-on-their-luck former military veterans turned thieves, namely Joey Durban, Straub and Teddy Dalloway.
He owns a bar called The Green Zone which he uses as his base of operation. Under Latimer's leadership the crew performed high end robberies utilizing military tactics and equipment. He had a history of promising his gang members profitable retirements in order to induce them to continue stealing, but in reality he was killing off the more senior members of the gang.
He was hired by someone representing Elias in order to steal the 35 year old cold case file from police archives. Following the successful heist of the file and the murder weapon used in the crime, Latimer shot and killed Straub and Dalloway. With Reese's help, Joey was able to escape on a bus to Phoenix with Pia.
In his apartment, he delivered the stolen file but was killed to cover any connection back to Elias. Reese later discovered his body.