Samuel Gates, Sr.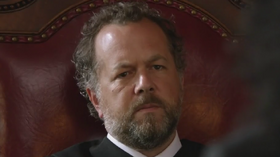 ---
---
---
---
Residence
New York, NY, USA
---
---
---
Samuel Gates, Sr. is a criminal court judge. He lost his wife Elizabeth to cancer approximately a year before he became a POI. He has been raising their young son ever since. Gates' son, Sam, was kidnapped by Jarek Koska's gang in order to ensure that their associate would be found not guilty in a trial presided over by Judge Gates. Christina Rojas, Sam's nanny, was tortured and murdered by Koska's gang in order to get the alarm code for Judge Gates' brownstone. When the NYPD visited Judge Gates while investigating Rojas' murder, he claimed ignorance. Despite Markham being found not guilty, in large part due to Gates' misconduct, the kidnappers double crossed him and were going to kill Gates and his son before Reese intervened, rescuing them and capturing Markham, Koska and his team following a firefight. Afterwards, Finch anonymously supplied prosecutor Monica Ramirez with enough evidence against Markham and presumably her dealings with Koska to imprison them.

After being reunited with his son, Gates thanked Reese for his help, but warned him that he would not be able to do anything to protect Reese when the authorities eventually catch up to him. Reese tells him to just enjoy his time with his son and leaves. Reese later tells Finch that "reading between the lines" Gates said they have nothing to worry about with him and he might help them in the future though Finch is doubtful of this assessment.
Ad blocker interference detected!
Wikia is a free-to-use site that makes money from advertising. We have a modified experience for viewers using ad blockers

Wikia is not accessible if you've made further modifications. Remove the custom ad blocker rule(s) and the page will load as expected.