This article is not up to date!

It requires updating and revision to include recent character or story changes. Your help is greatly appreciated!

Missing info from:

"

YHWH

"
Schiffmann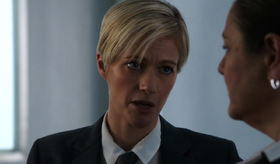 ---
---
---
Affiliation
U.S. Government
---
---
---
---
Schiffmann is Control's assistant at The Pentagon.
She briefs Control regarding an imminent terrorist attack in Detroit thought to be orchestrated by Yasin Said and several associates. She is present alongside Control in the operations room as Grice and Brooks neutralize the suspected terrorists. ("Control-Alt-Delete")
During the Correction she is killed via lethal injection. ("YHWH")
Ad blocker interference detected!
Wikia is a free-to-use site that makes money from advertising. We have a modified experience for viewers using ad blockers

Wikia is not accessible if you've made further modifications. Remove the custom ad blocker rule(s) and the page will load as expected.