Scott Powell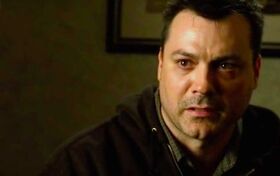 ---
---
---
---
Occupation
Construction project manager
---
Residence
New York, NY, U.S.
---
---
---
Scott Powell is a dedicated family man and city construction project manager, who was laid off in due to budget cuts advocated by Congressman Michael Delancey.
He was framed for the assassination of the Congressman by the congressman's partner and the mysterious hacker Root. After his number came up, Reese protected him from an assassin sent by Matheson and Root while Powell's wife learned of his lies. Reese allowed Powell to discreetly call his wife in case something happened to him and then dressed in Powell's hoodie and used a tracking device left in his boot to lure the assassin into a bathroom where Reese killed him. Once the assassin was dead, Powell went to the 8th Precinct and surrendered himself to the police and FBI. Shortly afterwards, he was exonerated by Harold Finch who sent a recording he'd made of a phone conversation between Matheson and Root to Detective Joss Carter.
After being exonerated, Powell was driven home by the police where he was reunited with his family and mobbed by reporters. At the request of Reese, "fixer" Zoe Morgan got the reporters to back off and Finch got Powell a new job at a company he owned running a new building project for them. ("Root Cause")
While talking to Carter about "the Man in the Suit", Special Agent Donnelly brings up Reese's breaking Powell out of FBI custody. Carter reminds him that Powell was cleared of all charges but Donnelly is more interested in the fact that they believe the man who broke Powell out is connected to several other cases of theirs. ("Identity Crisis")
Ad blocker interference detected!
Wikia is a free-to-use site that makes money from advertising. We have a modified experience for viewers using ad blockers

Wikia is not accessible if you've made further modifications. Remove the custom ad blocker rule(s) and the page will load as expected.