Sydney Baylor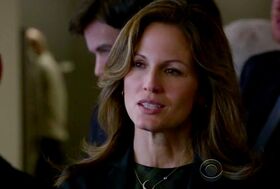 ---
---
Occupation
Partner at Baylor Zimm
---
Residence
New York, NY, USA
---
---
---
---
Sydney Baylor was a partner at Baylor Zimm.
Though she was his boss, Baylor was romantically involved with Adam Saunders and, according to Reese, the two were in love. After Adam discovered an insider trading plot and brought it to Sydney, she was murdered in her bathtub with a champagne bottle that she and Adam had drunk from a few nights before and Adam was framed. However, Detective Carter figured out how the killers got their hands on the bottle and exonerated Adam. Reese later learned that Sydney was killed by Elias's men in his plans to fund his private war.
Ad blocker interference detected!
Wikia is a free-to-use site that makes money from advertising. We have a modified experience for viewers using ad blockers

Wikia is not accessible if you've made further modifications. Remove the custom ad blocker rule(s) and the page will load as expected.