Tara Verlander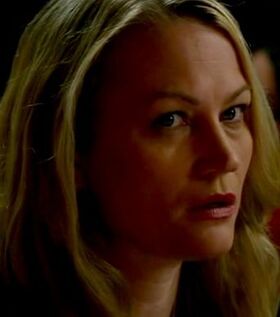 ---
---
---
---
---
Residence
New York, NY, USA
---
---
Tara Verlander also known as Mary or Jordan Hester is an identity thief and the leader of a gang that manufactures ecstasy and other drugs.

Character Background
As Tara, she had "an impressive rap sheet" with charges of shoplifting, forging checks and insurance fraud. By the time Tara was 23, she tossed her own name in favor of stolen identities, working as a receptionist named Mary at a discount tax prep chain where she stole the identities of the clients of accountant Richard Eckhart.
Victims
She framed Kyle Morrison and was about to do the same thing to the real Jordan Hester. She also may have had dealings with HR.

Thinking she might be a Person of Interest, Finch tried to protect her but she tricks him and slips some ecstasy into his drink which causes him to hallucinate and ramble on incoherently. She mixes some chemicals and puts them in the microwave, admitting that she always liked using chemicals rather than guns or other weapons to kill her victims.
She then leaves Finch in the house all alone as the chemicals burst into flames. However Finch is rescued by Fusco upon Reese's instructions. She also leaves her drug dealers to kill Reese and the real Jordan.
Arrest
After taking down Tara's men, Reese and the real Jordan Hester corner her as she tries to get a new identity from Richard Eckhart. With the help of Finch, Fusco was able to identify Tara who is arrested by Detective Desmond Franklin from identity theft who tells her that her charges will take awhile to figure out due to the extent of them.
Ad blocker interference detected!
Wikia is a free-to-use site that makes money from advertising. We have a modified experience for viewers using ad blockers

Wikia is not accessible if you've made further modifications. Remove the custom ad blocker rule(s) and the page will load as expected.