Terence Beale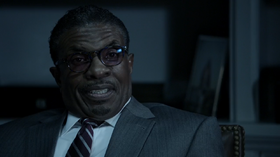 ---
---
---
Occupation
CIA Supervisory Agent
---
---
---
---
Supervisory Agent Terence Beale oversaw the CIA's Special Activities Division (SAD), therefore being the boss of Mark Snow, Kara Stanton and John Reese. He was responsible that Reese was selected to serve in the SAD due to his impressive performance during training.
In 2010 he assigned Reese and Stanton to investigate a soldier named Brent Tomlinson for selling information to the Taliban about a classified shipment of Stinger missiles from Operation Desert Rain, a joint CIA - Pentagon operation being conducted without congressional approval, with instructions to execute him if found quilty.
In 2015, Alex Duncan, who happened to be Tomlinson's brother, started investigating his brother's death and came upon information which threatened the careers of the powers that be within the CIA. Beale and his team came to New York City to apprehended Duncan but Reese was able to rescue him. During one of his encounters with Reese, Beale corroborated Reese's lie to Duncan about his brother dying a hero to stop him from investigating further. Reese and Beale departed on good terms with Beale agreeing to keep the fact that Reese is still alive a secret in exchange that John doesn't leak the details of 'Operation Desert Rain' to the media.
Ad blocker interference detected!
Wikia is a free-to-use site that makes money from advertising. We have a modified experience for viewers using ad blockers

Wikia is not accessible if you've made further modifications. Remove the custom ad blocker rule(s) and the page will load as expected.