Toke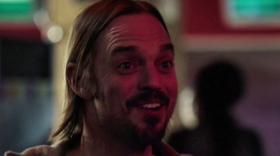 ---
---
---
---
Toke is an energetic former classmate of Matthew Reed.
Character Background
Toke is seen talking with Matthew at a bowling alley during a high school reunion party.
Reese, posing as former student Frank Mercer, talks with Toke, who tells him about the death of Matthew's girlfriend Claire Klein, and how she died of a drug overdose rather than being murdered by Matthew, as most people believe.
Toke walks in on Reese and a Vigilance member posing as former classmate Phil fighting in the kitchen. Phil grabs Toke and threatens to kill him unless Reese drops his weapon, but Reese throws a plate at Phil and knocks him out with a can; Phil commits suicide by cyanide to avoid interrogation.
Toke is later present watching the arrest of Matthew's classmate and enemy Doug Hemmill.
Ad blocker interference detected!
Wikia is a free-to-use site that makes money from advertising. We have a modified experience for viewers using ad blockers

Wikia is not accessible if you've made further modifications. Remove the custom ad blocker rule(s) and the page will load as expected.