Tremors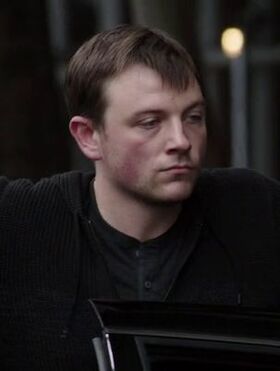 ---
---
---
---
Occupation
Drug manufacturer
---
Residence
New York, NY, USA
---
---
---
Tremors is the nickname of a man involved in the manufacturing of a new synthetic drug on HR's orders.
He attempted to murder Genrika Zhirova, but was stopped by Sameen Shaw. She and Gen hid in an apartment while Tremors and his men attempted to kill them. His men were distracted by Reese, causing him to bring in reinforcements while he left.
Reese, who was tracking Tremors, and Carter, who was tracking Raymond Terney, found each other at the same spot as they watched Terney paying Tremors, leading both to realize that Gen's kidnappers had an affiliation with HR. Reese knocked out Tremors and brought him to a rooftop, where he interrogated him by making him hold a cup of nitroglycerin. He told them all he knew, and Reese and Carter left him there. Reese told Carter that the cup was simply filled with corn syrup, as Tremors dropped it and stated screaming not realizing what he was actually holding.
Ad blocker interference detected!
Wikia is a free-to-use site that makes money from advertising. We have a modified experience for viewers using ad blockers

Wikia is not accessible if you've made further modifications. Remove the custom ad blocker rule(s) and the page will load as expected.