Vanessa Watkins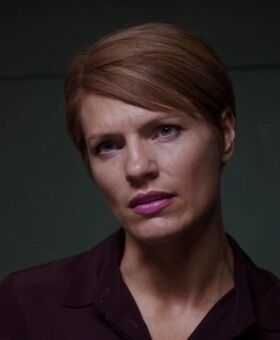 ---
---
---
Status
Unknown (probably deceased)
---
Occupation
Defense Attorney
Founder of "The Innocence Project"
District Attorney (formerly)
---
Residence
New York, NY, US
---
---
---
---
Vanessa Watkins is a defense attorney who is married to Jeremy Watkins. Vanessa was previously a prosecutor with the District Attorney's office but did not enjoy the work so switched to working for the defense.
Jeremy and Vanessa concocted a plan to steal $5 million from a charity they founded, then leave the country using fake passports that Vanessa procured. However, Jeremy was having an affair with Vanessa's best friend Nicole Spencer and double crossed Vanessa by framing her for his alleged murder so he could leave with Nicole instead. Vanessa was arrested but escaped custody by knocking out her attorney and stealing her clothes, then walking out of the police station. Detective Gary Cameron led a fierce manhunt for her, declaring her armed and dangerous. At first it appeared Cameron was motivated by a grudge against Vanessa for humiliating him during a trial, but Vanessa later proved to be more dangerous than it originally appeared.
Vanessa met with a drug dealer named Reginald "Reverb" Marshall who provided her with a kilo of cocaine. She used the cocaine to frame the witness against her, Scott Rollins, a security guard at the marina where Vanessa and Jeremy kept their boat. Having been bribed by Jeremy, Rollins told the police that he had seen Vanessa throw a gun into the water near the boat, which the police later recovered. 
Vanessa was caught and subjected to a mock trial by Finch, Reese and Carter during which she was able to prove to them that she did not murder her husband. However, after she left with Reese, Carter found a picture of her husband that she had defaced and concluded that she was lying about still being in love with her husband, and must have killed him.
Reese took Vanessa to the bus station and gave her a gun for her protection. As Reese left Vanessa, Finch warned him of her true intentions. After discovering she was not on the bus, Reese located Vanessa at the yacht. When Jeremy arrives, expecting to find Nicole, Vanessa confronts her husband with the gun Reese gave her. Reese arrives soon after and sizes up the situation, realizing neither of them is worth saving. Instead, Reese leaves a second gun for Jeremy and walks away. As the episode ends, two shots are fired, implying that each had shot one another. 
Ad blocker interference detected!
Wikia is a free-to-use site that makes money from advertising. We have a modified experience for viewers using ad blockers

Wikia is not accessible if you've made further modifications. Remove the custom ad blocker rule(s) and the page will load as expected.