Detective William Petersen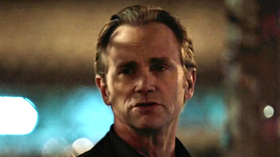 ---
---
---
Occupation
Police detective
---
Residence
New York, NY, USA
---
---
---
Detective William J. Petersen was a corrupt NYPD detective and member of HR.
Character Background
Petersen was an old associate of Lionel Fusco, and had pickpocketed him a long time ago.
Petersen was present along with Patrick Simmons and another thug at a fortune cookie factory during Fusco's brutal interrogation on the location of files containing HR information. Simmons threatened to kill Fusco's son Lee if he did not comply, and Fusco finally gave in.
The location Fusco gave Simmons was false, and Simmons ordered the thug to kill Lee, and Petersen to kill Fusco. Shaw saved Lee, and Petersen aimed his gun at Fusco while having one last taunting conversation. Fusco, who had been working at his bonds earlier, broke free at the last moment and strangled Petersen to death.
Ad blocker interference detected!
Wikia is a free-to-use site that makes money from advertising. We have a modified experience for viewers using ad blockers

Wikia is not accessible if you've made further modifications. Remove the custom ad blocker rule(s) and the page will load as expected.